How is your face shape related to your hairstyle?
Can't I wear any style I want?
Of course, you can, BUT don't you want to look your most attractive?
It's all about complimenting the proportions and lines on your face with the optimal cuts and lines of a haircut to emphasize your best features.
Considering your face shape before choosing your next hairstyle could completely change your overall look.
Table of contents
Why Should You Care about Face Shape?
Types of Face Shapes
How to Determine Your Face Shape
The Theory behind Face Shapes
Hairstyles & Tips for the face shapes – Useful Advice

Oval
Square
Round
Rectangle/Oblong
Heart
Diamond
Triangle

Celebrity Hairstyle Examples

Keanu Reeves
Hrithik Roshan
Leonardo Di Caprio
Will Smith
Christian Bale
Javier Bardem
Aamir Khan
Nick Jonas
Ken Leong
Jason Mamoa
Why Should You Care?
Face shape and hairstyles seem like topics that are not so important until you get an unflattering haircut and spend the rest of the next few months getting weird looks!
People spend hours in the gym and deny themselves junk food but give little thought to the difference a hairstyle can make to their overall image.
Sometimes, you want a cool, trending hairstyle, but it may not enhance your face or features. The hair 'trend' may be created by someone that has the opposite face shape to you. And while you may be 'on trend,' you may also not be optimizing your natural attractiveness.
We have established face shape is important. So where can you find the best advice on what will work for you?
Types of Face Shapes
The face shapes below are general categories. You may be a combination, and it may take several "average' haircuts to realize just what facial proportions you are dealing with.
The face shapes are determined by –
Length of your face
Width of your face
Cheekbones
Jawline
Forehead
The General Face Shapes are –
Oval
Square
Round
Rectangle/Oblong
Heart
Diamond
Triangle
(You might come across other sub-categories, but hopefully, most people will identify with the above shapes).
So, all of this is great, but how do you tell the difference between an oval and a rectangle?
How to Determine Your Face Shape
Determining your face shape is absolutely not as easy as looking at a few pics of people who look like you.
You might think your face is long because you have been told by someone else.
Or you hyper-focus on your cheeks all the time, so you think you have a round face, but it could be a square or heart shape!
Even looking online for a celeb that looks like you can be confusing. Some sites say the same actor has a heart shape face while others will say round. It's not a perfect science.
Hairdressers are used to looking at facial proportions, however. They know what to look for and how to emphasise (or de-emphasise) particular parts of the face using the hairstyle.
Two Easiest Methods
There are a LOT of suggestions on how to do this, but these are two of the easiest –
Trace your face
This can be done in several ways
You can take a photo, print it out, and draw or trace the outline of your face on the printout.
A faster way (and good if you don't have a printer) is to stand in front of a mirror and trace around your reflection on the mirror using chalk, a non-permanent marker, or anything that can be wiped off (i.e. someone's lip balm!)
Face proportions – jawline, length and width
This is as simple as determining if your face is longer than wide! In general terms, a long face means you will likely have an Oval or Rectangle face shape. You can get technical to measure your face, but this may be trickier than it sounds.
If the length and width are the same, it's probably square, round or heart.
Your jaw shape can help you refine your 'calculations,' but this can be subjective (is your jaw "rounder" or "angular?" Sometimes it's hard to tell by yourself.
Note – Beards and fringes may make it a little tricky to determine your face shape.
(See the 'features' section for each fact type below for more help).
The Theory Behind Face Shapes
Much of the theory about face shapes and hairstyles relates to facial proportions, symmetry, features, and angles.
The 'baseline' shape hairstylists often try to achieve is the oval face shape. From this basic, even shape, the hairstylists work to create any face shape into a flattering and proportionate style similar to the oval proportions.
'Attractiveness' is, of course, subjective. The main game is to balance and accentuate features.
Sometimes men prefer stronger, bolder features, such as sharp jawlines but everyone is different, and this must be considered when selecting a style.
Anyone can wear any hairstyle, but if you want to improve what nature gave you, a simple tweak to your haircut may make all the difference.
Hairstyles for the Face Shapes – Useful Advice
If you know your face shape, check below on what does and doesn't work for your features.
Oval
Features
Oval face shapes are often considered the most versatile and look good in many styles because of their symmetrical proportions.
Cheekbones are the widest feature
Longer than it is wide
Challenges
The wrong fringe can 'round' your oval proportions.
Best Hairstyles for oval face men
Almost anything – from buzz cut to quiff to long locks, this face shape can usually work with most styles
Not recommended
Styles with too much volume on the side of the face
Square
Features
Face length and width are equal
Defined jaw
'Straight' appearance on the side of the face (not rounded)
Chiselled cheeks and jawline give a 'rugged' appearance
Challenges
Find a style that softens the sharp, straight angles.
Best Hairstyles for square face men
'Softer' styles can work sometimes
High ball/man bun
Longer styles
Not Recommended
Heavy or long fringes/bangs
Wider or voluminous side styles
Oblong/Rectangle
Features
Longest face shape
Prominent forehead
Challenges
Find styles that further lengthen the proportions of the face
Best Hairstyles for oblong face men
Layers around the face to break up the length
Styles that add width
Not Recommended
Short sides
Swept back on top (man bun/high ball)
Round
Features
The width and height of the face are the same
Width of jaw, cheekbones and forehead equal
Rounded jawline
Challenges
Finding styles that don't hide facial features
Creating height to balance out the width
Best Hairstyles for round face men
Styles that are swept off the face
Longer styles that can make a face appear longer or 'oval'
Not recommended
Anything that falls on the face
Blunt fringes/bangs
Styles that end at the chin level
Heart
Features
The forehead will be the widest part of the face
Chin is pointy, jaw tapered
Challenges
Balance out the jawline
Best Hairstyles for heart face men
Longer styles
Slicked back top
Side fringe
Not recommended
Short styles (unless you wear a beard, which may balance your proportions)
Shaved sides
Height without width on the sides
Diamond
Features
The forehead and jaw are much narrower than the cheekbones
Longer than the face width
Pointy appearance to the chin
Challenges
Avoid looking hollow or tired in the face
Avoid lengthening the face
Best Hairstyles for diamond face men
Longer hairstyles
Shape/layers around the face
Not recommended
Shorter styles
Styles that emphasise height
Triangle (inverted)
Features
Smaller jaw, wide forehead
Challenges
Balancing the proportions of the smaller jawline
Best Hairstyles for triangle face men
Longer styles with layers
Messy fringe
Buzz cut
Not recommended
Emphasis on forehead width
Celeb Style – See how different Hairstyles can change your looks
Still not convinced it's that important to think about the shape of your face?
A great way to see this in action is with actors, models and celebrities. These busy guys frequently change their hair for a character, advertising campaigns, work assignments, etc.
What these celebs show us is how their facial features are enhanced by certain styles. They can look younger (or older), thinner (or heavier) and overall more attractive when the style compliments their facial proportions.
You will notice that it is not particularly useful to work out which celebrity has your face shape and then copy them (because it's not easy to determine face shape without measuring unless you are a hairstylist!).
This section below is more to demonstrate to you how a hairstyle can change your facial features and attractiveness.
Check out these examples –
Keanu Reeves
Keanu Reaves is one of the best examples of an oval face shape. He can (and has) worn almost every hairstyle. Whether it is a medium, long, short crop, quiff or man bun, his even facial proportions make it easy to experiment with and look good all the time. Lucky guy.
Hrithik Roshan 
An excellent example of why this is not a perfect science is Bollywood actor Hrithik Roshan. Hrithik Roshan's Face Shape is described as both an oblong and diamond. Both shapes tend to be longer than they are wide, so he often sports a layered look to lessen the length of his face and emphasise those famous eyes.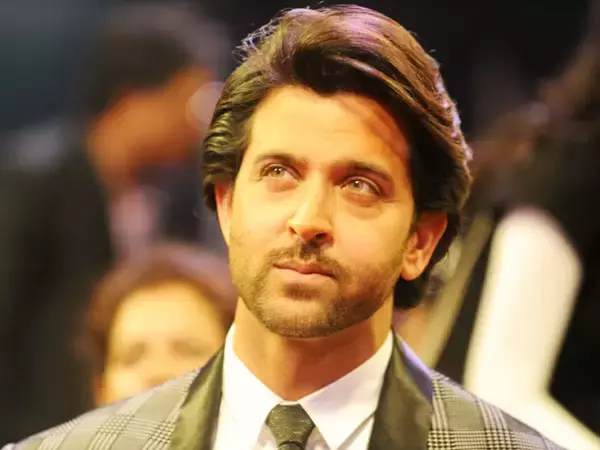 Leonardo Di Caprio 
Leonardo has worn a variety of hairstyles for his many roles however, he usually keeps hair off his round face proportions. He sometimes adds a little height to the top to lengthen the overall look. When he wears a fringe/bangs, it can further highlight the width and roundness.
Will Smith
Will is another celeb described as having multiple face shapes – an oval, triangle and square face! He wears his hair cropped and rarely has height on the top, suggesting he is more oval than square. He is not an example of a celebrity who frequently changes his hairstyle. However, in King Richard, you can see the effect of the longer hair on his overall appearance.
Christian Bale
Christian is a highly versatile actor who has to don various hairstyles for his film roles. His face is oblong (rectangle), and he looks great with slightly longer hair on the sides and top. When his hair is shaved or long on top without the width, it tends to emphasize the length of his face a little more.
Javier Bardem 
Javier's face looks oblong, rectangle and his jawline is prominent. When he wears his hair a little layered and on the face, it's flattering and emphasises his eyes.
I don't think many of us can forget THAT haircut from 'No Country for Old Men.' It was perfect for the creepy character, but a little too much emphasis on the jaw!
Aamir Khan
Aamir has a square-shaped face and often wears his hair cropped so he does not add too much volume to the sides. Height on top usually lengthens his face, and sometimes softer styles with some layers suit him too.
Nick Jonas 
The challenge with this heart face shape is to balance out the chin. Nick is often spotted with a light beard or facial hair on the chin. This balances out the wider top half of his facial proportions, especially when his hair is close-cropped. He almost always has the sides very short however, in the past, when he has left some length on the sides and top, it appears to flatter his proportions.
Ken Leong
The comedian and actor has a round face and is often seen sporting a softer style and deep side part. His regular hairstyle almost looks school-boyish and adds to his comedic roles. When he adds a bit of height and sweeps his fringe off the face, it does tend to lengthen his facial proportions.
Jason Mamoa
Jason has trademark long hair and a beard these days, but he has been clean-shaven with short hair in the past. He can pull off anything but tends to keep his fringe off his face.
Conclusion
Hair is vital to most people's self-image. It can make or break your day! Learning about your face shape is such a simple thing to do to reap significant benefits. Enhancing your facial features or disguising proportions that don't work for you can completely change how you look without almost any effort at all.
Resources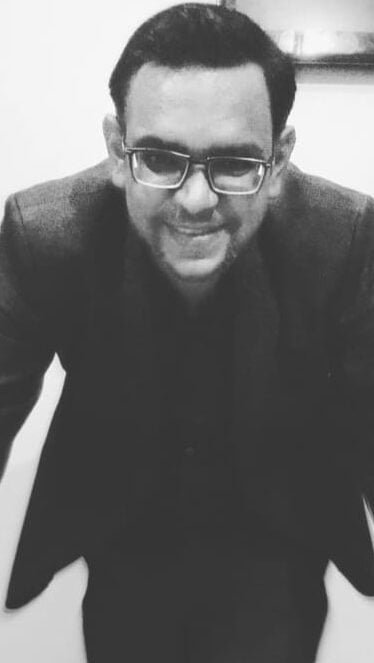 Harsh is the founder of menPsyche. He enjoys using his extensive research and writing skills to communicate ideas and concepts, with the aim to improve people's lives. 
Harsh trained as a Communication Engineer and  published a MSc (Research) thesis, as well as worked in a variety of marketing and consultancy roles.