Men have unique nutritional needs throughout the stages of their life.
As they juggle the expectations of modern life, health, fitness, and nutrition are increasingly popular topics for Indian men.
Sadly, our food quality today is affected by environmental factors, and foods that once were nutritious may sometimes lack nutrients.
And, if you are dieting, restricting food, or facing illness or disease, meeting your daily nutritional requirements may also be challenging.
We would all prefer to gain our nutrients from food. However, multivitamins for men may play a part in filling in the gaps in nutritional needs from time to time.
Below are our recommendations for multivitamins for men.
Tip – What to look for in multivitamin tablets for men
Blends specially formulated for men's needs (i.e. men do not generally require extra iron)
Avoid mega-doses (no more than 100% of the RDA in most cases)
Focus on the number of essential nutrients rather than the number of ingredients
Always double-check the marketing claims against the ingredient list on the packaging, as it can become confusing
In this post
TrueBasics Multivit Men
MuscleBlaze MB-Vite Daily Multivitamin
Zingavita Fish Oil and Multivitamins and Omega 3 for Men and Women
OZiva Daily Men's Multivitamin
Big Muscle Nutrition The Real Vitamin Advanced Multivitamin
Carbamide Forte Multivitamin Tablets for Men & Women
ZeroHarm Whole Food Multivitamin for Men
Nutrabay Pro-Active Multivitamin Men
Swisse Men's Multivitamin
Man Matters Multivitamin Gummies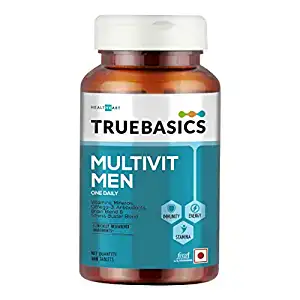 This formula is a comprehensive supplement and contains vital nutrients, including 100% RDA for many essential vitamins and minerals.
There is a long list of features provided by the manufacturer, including:
100% RDA of 23 vitamins & minerals
40 essential nutrients plus 18 immunity-boosting compounds
Specific blends & clinically researched ingredients for improved energy, immunity & stamina
A 'Brain Blend' containing various ingredients such as Omega-3, Ginkgo biloba and Choline
A 'Stress Blend' to assist with better sleep, including L-Tryptophan, Ginseng, Valerian Root Extract
Antioxidant additives for potential support against free radical damage in the body and improved immunity
A 'Virility Blend' including Tribulus, Ashwagandha, Safed Musli, Mucuna Seed
Inclusion of Saberry (a clinically researched ingredient with 80 times more potency than Amla)
Summary –
30 tablets
100% RDA of 23 vitamins & minerals
Omega 3
Additional features – immunity, gut health and amino acids
MuscleBlaze is a popular and well-known brand in India – check out the thousands of reviews online.
Highlights from the manufacturer include:
A vitamin and mineral blend of 25 nutrients targeted at bodybuilders, athletes and active adults. The products aim to assist with immunity, energy, stamina, recovery, bodily metabolic processes such as protein synthesis and overall fill any nutrient gaps.
The product boasts 100% RDA for essential nutrients.
A digestive blend with enzymes to aid digestion and nutrient absorption
Summary –
30, 60, or 120 tablets
100% RDA for many vitamins & minerals
Includes various additional nutrients for immunity, gut health, digestive enzymes etc
Vegetarian
This product is a good option for those looking for Omega 3 and a multivitamin vitamin. It offers a well-rounded product and contains 100% RDA for most vitamins and minerals and Omega 3 (DHA and EPA).
Features, as described in the product marketing, include:
Easy product for customers to consume as it combines a multivitamin plus fish oil in one soft gel capsule daily
Provides support for the heart, brain and joints
Mercury-free, sugar-free, GMO-free, gluten-free and soy-free
Produced at an FSSAI-approved, WHO-GMP & HACCP certified facility.
Summary –
120 capsules
Omega 3 – 1000mg omega 3, 180 mg EPA, 120 mg DHA
100% RDA for 21 nutrients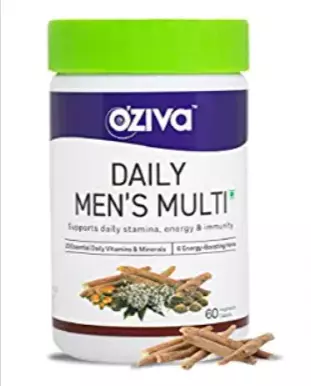 This product contains additional immunity and energy nutrients, a multivitamin blend formulated for men.
Features include:
Assists improved performance with Akarkara (herb).
Helps improves sleep and mood with support for the production of Serotonin.
Stamina and energy support with Ashwagandha, Safed Musli, Kawanch beej and Valerian Root
Vegan, soy-free, no preservatives, no artificial colours and sweeteners.
Summary –
60 Tablets
100% RDA for 21 nutrients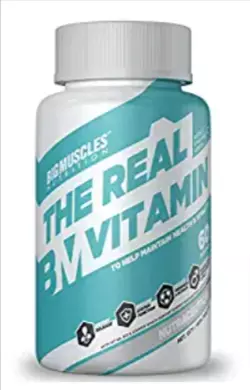 This formulation does not include unnecessary add-on nutrients – it contains essential vitamins and minerals.
Features:
Aids endurance for workouts
Supports an increase in muscle mass
Chocolate flavour
Summary –
60 Tablets
100% RDA for 22 nutrients
6. Carbamide Forte Multivitamin Tablets for Men & Women
A highly rated multivitamin with an impressive ingredient profile.
Highlights from the maker include:
Super-antioxidant and vitality blend
Probiotics for immunity and improved digestion through enhanced absorption
7 vital blends with 45 key ingredients in their premium form
Hair, skin and nails nutrients
Small tablet size (easy to swallow)
Joint and bone support, including a veg source of vitamin D
Summary –
30, 100 or 180 tablets
100% of all vitamins
Vegetarian
7. ZeroHarm Whole Food Multivitamin for Men
A multivitamin for men who are searching for natural, plant-based products.
The manufacturer highlights the following features:
Ingredients sourced from fruits, vegetables and 'superfoods'.
Antioxidant and anti-inflammatory properties for heart, brain and bone health, improved exercise performance, immunity, and relief from headaches etc.
6 blends with 80 ingredients, including amino acids, vitamins, minerals, antioxidants and metabolism blend.
Energy and mood improvement, energy production assistance, oxygen transport and reduced (mild) symptoms in mood issues
Antioxidant ingredients assist elimination of toxins, improving cholesterol levels, blood pressure and brain function.
Bone health is supported by Vit D, magnesium, manganese, potassium, iron and zinc.
Summary –
60 or 120 tablets
80 ingredients
Vegetarian
8. Nutrabay Pro-Active Multivitamin Men
This product for men features 25 Vitamins & Minerals and supports overall health, stamina, energy and immunity.
The highlights listed are:
Immune boosting ingredients
Essential vitamins and minerals for joint, bone, skin, hair and nail health
Vitamin B complex and iron for improved energy and supporting active lifestyles
Ingredients to help tissue repair and muscle strength
1 capsule per day
Summary –
60 capsules
25 essential vitamins and minerals
Vegetarian
Swisse Men's multivitamin is a high-rated product produced in Australia and contains the following:
36 Essential nutrients, including antioxidants, vitamins, minerals and herbs
Provides support for overall health, including energy, bran, skin, nails and hair
Citrus Flavour
Summary –
10. Man Matters Multivitamin Gummies
Gummies seem like an exciting way to take a multivitamin!
This product from Man Matters contains:
15 essential vitamins and minerals with antioxidants to boost overall health and immunity
Improved energy via ingredients such as folate, vitamin b5 and b12, which aid metabolism
Eight amino acids and seven herbal extracts
Vitamin D3 and K2 for bone health
Gluten-free, gelatin free and no added preservatives
Strawberry flavour
Summary
15 essential vitamins and minerals
Vegetarian
Conclusion
Multivitamins may assist some people with nutritional deficiencies and support overall well-being.
Always consult a health professional for personalised nutritional advice when deciding which products to take.
References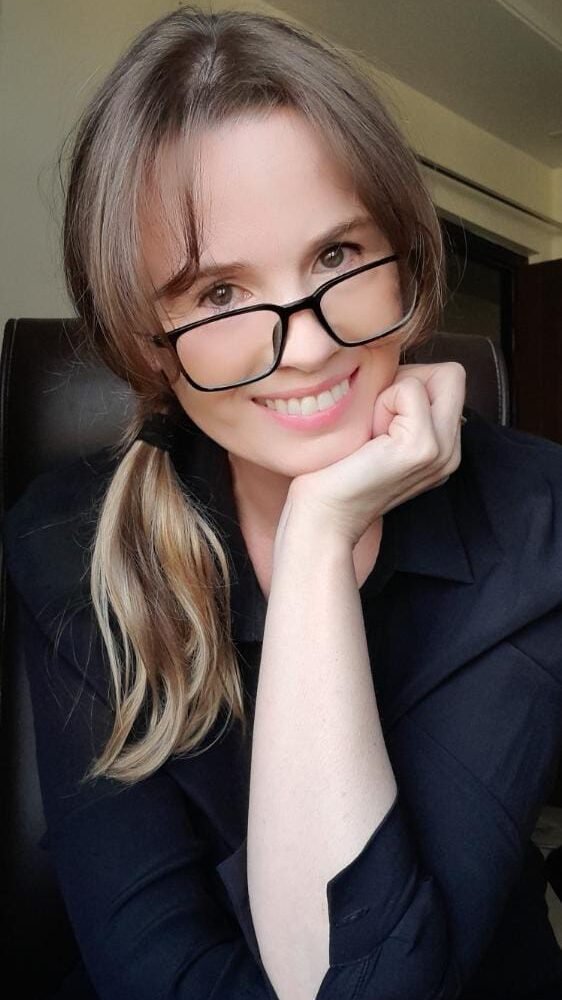 Jennifer is the co-founder of menPsyche. She holds an Applied Science degree in Public Health & Health Promotion and authored the 'Personal Disaster' book series. 
Jennifer has a vast range of experience across many domains, including extensive international exposure.